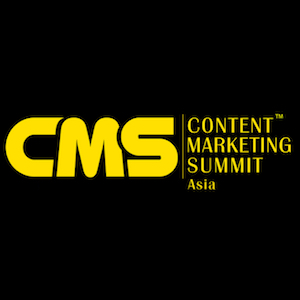 Content Marketing Summit Asia, the largest conference on the subject in the region, makes it's ASEAN entry this year and is scheduled for October 9-10 at Singapore. CMS Asia has been running successfully for last 4 years in out of New Delhi & Mumbai where global speakers & delegates have participated in growing content marketing ecosystem in the region. Over 2,000 delegates & 175 global speakers in past editions have made the conference a huge success.
In the upcoming ASEAN edition, over 30 C-Suite global experts & practitioners are expected to share their learning & experience with over 300 delegates. CMS Asia has been popular for being a platform with maximum participation from speakers from the brand & marketing side, a tradition that is expected to continue for the upcoming edition also. Global platforms like LinkedIn, Salesforce, Taboola, Outbrain, Yahoo, Unruly among others have partnered with the summit in past editions.
According to RP Singh, Producer & Chairperson – CMS Asia, "We are delighted to take this conference to Singapore as we were getting a lot of requests from this region to host the conference. Absence of a large-scale neutral conference on Content Marketing in ASEAN region was the key motivation for us to consider Singapore for the South East Asia launch. I am sure that we will be able to add tremendous value to marketing fraternity especially from ASEAN region in their content marketing efforts. This is probably the first marketing event IP which is going out of India to other markets against the usual norms where events come to India therefore, it is a special moment for all of us at CMS Asia."
The format of the conference will be a mix of Keynote Addresses from top experts, Panel Discussions, Content Marketing Master classes & workshops. There will be a balance of focus on both B2C as well as B2B Content Marketing allowing more and more marketers to participate and gain from it. Historically, CMS Asia, since its inception four years back, is known as a neutral platform, which is completely knowledge and sharing oriented with packed agenda and strong focus on individual learning.