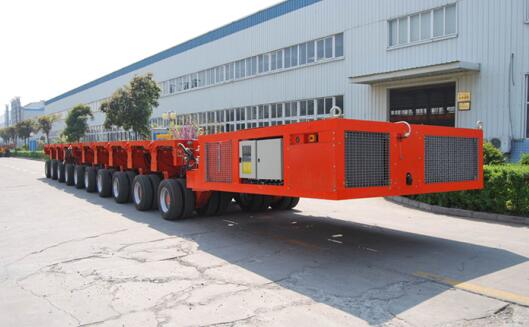 Anster being an SPMT supplier from China deals over the world for transporting tons of load for the ease of transportation of heavy goods in less cost. Wuchang shipbuilding company deals in making ships and ship parts being heavy need to be carried from one place to another. Anster has provided SPMT to Wuchang to transport 5000 tons of ship recently.
SPMT (Self Propelled Modular Transporter) is a vehicle having a large array of wheels connected in a line in order to support transport of massive objects from one place to another. It is used in many fields like shipyard, bridge and road construction and aerospace. The most known feature of SPMT is its multiple usage for carrying loads and cost effectiveness.
New production line of WUCHANG SHIPBUILDING uses SPMT for carrying ship parts and constructing ships and this has reduced million dollars of cost that were consumed for transporting loads using gantry cranes. The reason for choosing SPMT in place of gantry cranes is that a SPMT has ability to make two parts of a ship with a precision of about less than 2mm. Which is ultimately a best possible accuracy to be achieved.
SPMTs are known to have better quality than many loaders used now. They are less reliable and hence their use can cause various problems like if some massive machinery is to be transported somewhere and a problem occurs with the loader or crane used then definitely it would be loss of time and energy both. Further, it may cause issues with late delivery or shipment to clients.
ANSTER is a well-known SPMT and semi-trailers supplier. It has military technology and deals in China. The quality of its products can be compared to most of European products which are well known throughout the world and have established its name for a reason and that reason we all know is quality, affordability and reliability of course. It has been competing with many well established and popular European SPMT suppliers which is a result of their ultimate hard work which has brought it up in the world's popular suppliers.
Now, after making its mark in the industry ANSTER is looking for a bidding agency in the world. It is doing so in order to improve their success rate of bidding. In the year 2017, ANSTER intends to find SPMT to its bidding agency and distributors in the world to expand their business and let their products and services receive feedback from over other countries of the world. This could help them improvise as well as the expectations of clients from their products and the comfort level clients get from using their products and services.