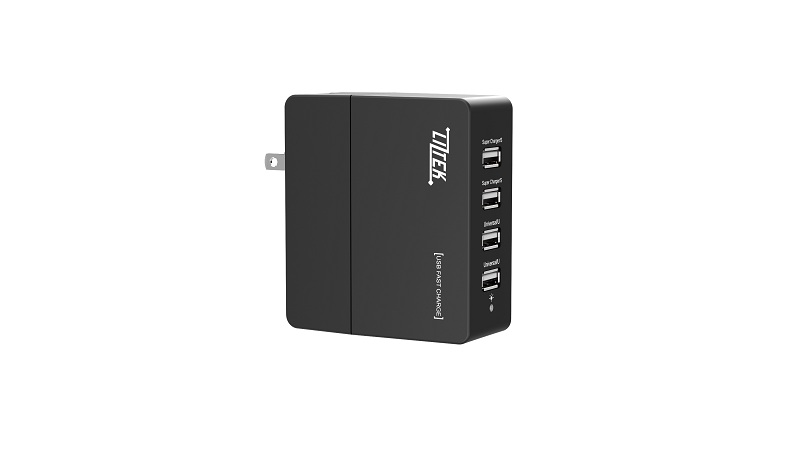 4 Port USB Wall Charger with SmartLiz Technology senses its power output as per the requirement of the gadgets and supports fast charging. Amazing four charging ports makes it ideal for family use.
The premium built quality and ongoing 30 percent price reduction on Amazon is feather to the cap. The device saves you time and effort and also meets international quality standards.
Electronic gadgets have become an inescapable requirement of our daily routine. We use these electronic devices every place we go. Our life is getting more and more dependent on these gadgets. And, at times; when these gadgets are not charged enough, we start getting irritable. However to solve the issue of charging all your devices together, the trusted brand Liztek has introduced in to the market, its premium product i.e. Liztek 4 Port USB Wall Charger with SmartLiz Technology.
The charger mounts on to the wall socket directly and avails you four smart charging ports supporting Smart-Liz technology. This unique technology senses the gadgets charging requirements and adjusts its output accordingly automatically. The device can accept an input ranging from 100-240 volts which makes it ideal for international travel. The output can be up to a maximum of 5 volts 2.4 amps in each port. The Usb Wall Charger is equally safe. Made up of industry grade plastic, the device is UL certified and comes with surge protection and over charging protection features. It also satisfies USB battery charging specifications BC 1.2.
The Usb Wall Charger charging capacity is compatible with all the major brands including Apple, Samsung, HTC, Blackberry, Sony etc. The device is also compatible for charging high power demanding gadgets such as tablet PCs. The four charging ports make it ideal for use with family, also you can put all your gadgets on charging simultaneously and can save your time.
The premium built quality makes it value for money product and icing to the cake is the Liztek's announcement of thirty percent price reduction on Amazon. So why wait, just logon and order your product now before it runs out of stock.