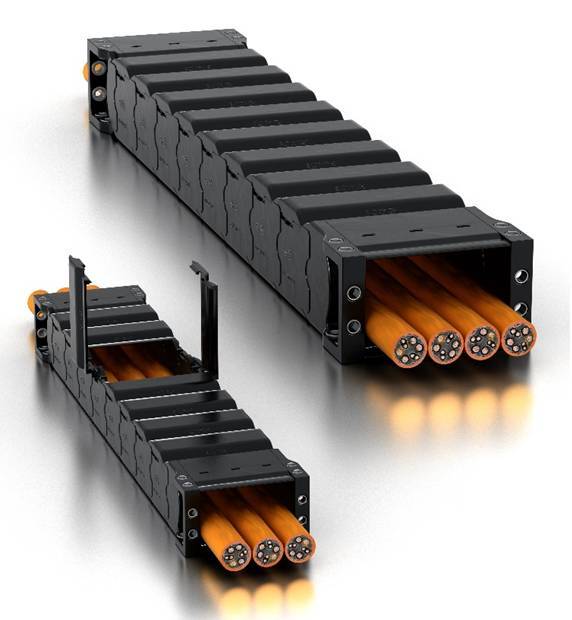 Chip-resistant energy chains, so-called energy tubes, offer cables protection from external influences in dirty environments or inside processing areas. Constructed on the basis of the cost-effective E2-principle (two parts per chain link) made of tribologically optimised plastics from igus, the chip-proof energy tubes of the R2 series also offer, in addition to the advantages of lubricant and maintenance free operation, protection from external dirt accumulation and flying chips. At the Motek igus will present the energy tube in a new size with 40 millimetres inner height to a specialist audience. This can be opened both along the outer radius (R2.40) and in the inner radius (R2i.40), allowing users to choose an option that is the easiest for them when filling the cables and hoses. The lids can be snapped open in either direction and need not be completely removed for filling the tube.
Gentle design for cables and easy on the ear
The contours of the lid of the R2.40 energy tube are smooth and their curvature and tight manufacturing tolerances guarantee that chips do not accumulate between the stop dogs. Smooth inner contours of the energy tube and rounded latching separators made of the same material also protect the cables. The integrated grid design also ensures a firm hold of the interior separation, even in side-mounted applications. With an integrated brake on the individual chain links, the chain runs audibly quieter. Less vibrations means more precise work on the workpiece. With the double stop dogs, the energy tube can absorb high fill weights and can even master long unsupported lengths. The universal mounting brackets of the R2.40 moreover ensure chip protection and also provide comprehensive options for internal strain relief.
Know more about Cable Duct, Track and Applications with E-Chain® at
http://www.igus.in/wpck/default.aspx?PageNr=1762&CL=IN-en
About igus India
igus® operations in India started in the year 1998 with head quarters in Bangalore. igus offers widest range of products that includes polymer bearings, igubal® spherical bearings,
Cable Connectors
etc. which enable them to serve the whole industrial establishments in India from a small work shop to huge industrial establishments.