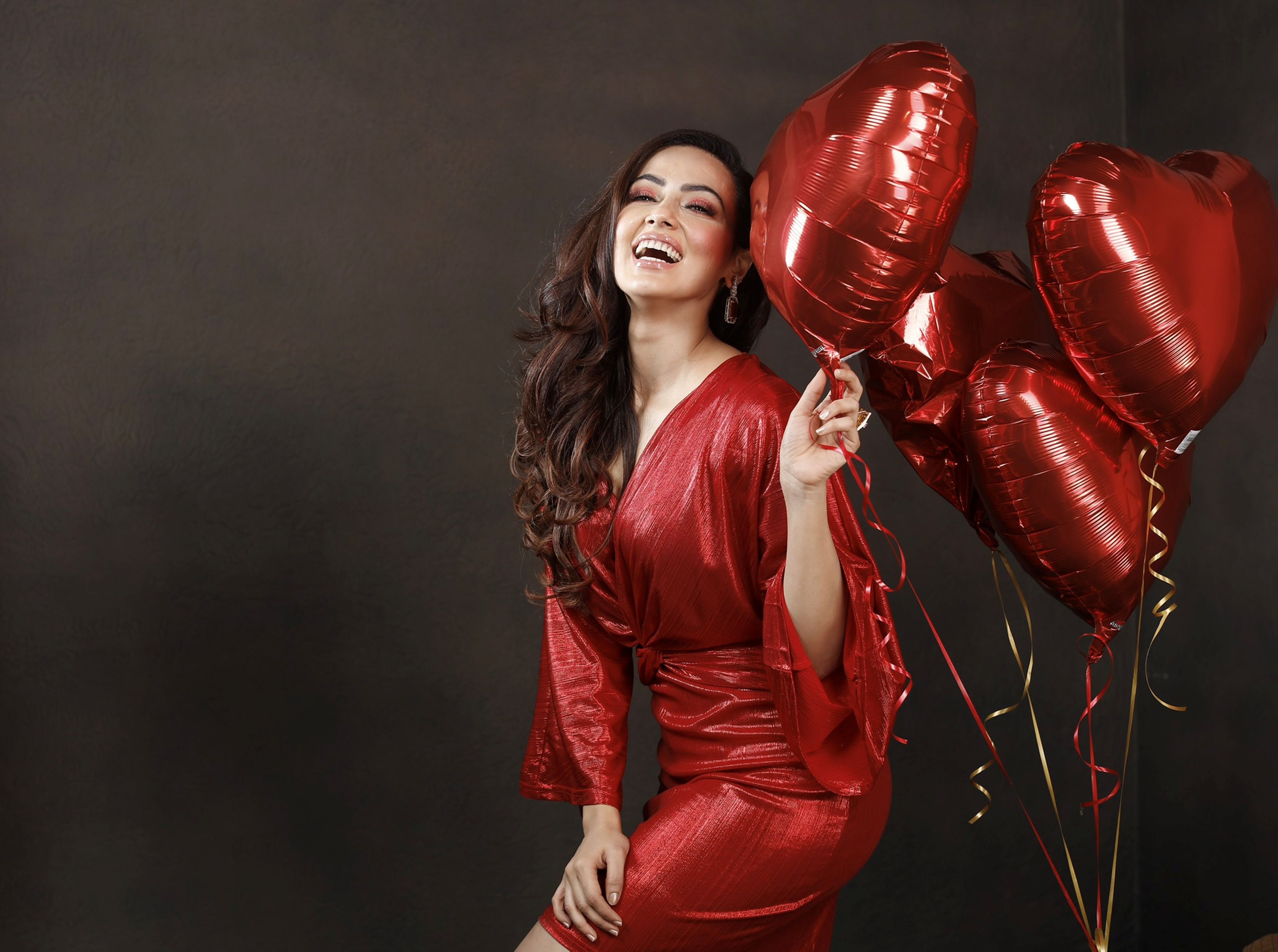 Recently the actress Sana Khan and popular choreographer and instagram sensation Melvin Louis were spotted in Ashima Sharma outfits at a calendar shoot which featured them in Valentine's Red theme, Sana Khan and Melvin Louis picked spectacular Red themed statement pieces from Ashima S Couture. Designer Ashima Sharma & brand Ashima S Couture has launched a series of designer red statement looks for the valentine's season . Brand Ashima S Couture by Ashima Sharma is known for its signature style which includes lot of metal, sequins and bling elements.
Sana Khan is a prominent face from the Film & TV industry, she's been in business from quite a while and was also part of a series of reality shows which consisted Bigg Boss Season 6, Khatron ke Khiladi, Comedy Nights Bachao and has featured in a special appearance for almost all the seasons of Bigg Boss . She was last seen in a lead role in Wajah Tum ho movie and in a special appearance in Toilet Ek Prem katha. Melvin Louis is an ace choreographer and is an instagram sensation, he has made his Bollywood dance cover with many popular actresses from the industry including Sana Khan. Together the duo has worked for some very trending dance covers.
About Ashima Sharma-
Ashima Sharma has been painting and sketching portraits since the age of 7. The interests in arts led to the next step 'Fashion Design' hence pursued courses in Fashion design from FIDM, Los Angeles and she masters in the fields of Pret and Couture wear and launched the brands ASHIMA S COUTURE, as an artist she has worked for many international art galleries & international brands as well. Writing has been one major passions and has achieved a distinct cynical style in writing poems, articles, scripts etc. Her interest in writings led her to start an online website with the name THE ASHY MIND SOUL which generally focuses on motivational articles, her interests in writing scripts led her to become the member of SCREEN WRITER'S ASSOCIATION OF INDIA. She is a healer/Spiritualist and has keen interest in the occult sciences such as astrology, numerology etc which also encompasses in her designs & arts. A music enthusiast by nature she and can play piano and the native Indian instrument 'harmonium' with ease. Since her very young days she has been accomplishing herself in all the above-mentioned credentials with awards piling in since childhood. She has been working on international level which has contributed to various styles in her designs, paintings and literary works. Her work profile has got her in close association with celebs & well-known brands from time to time.