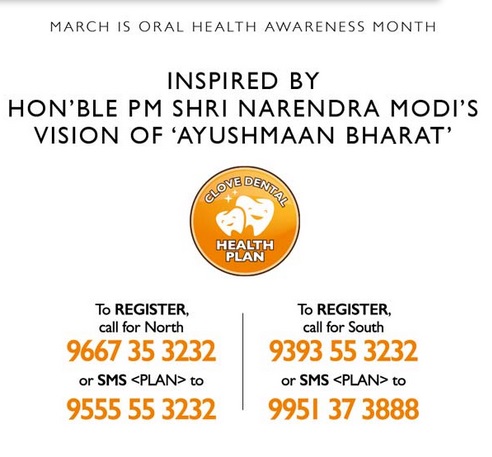 Leading dental network in India, Clove Dental is celebrating March 2019 as 'Oral Health Awareness Month' to bring oral care awareness to more people. This initiate aligns with the vision of the company wherein it aims to spread knowledge among people about oral health and dental diseases. With this campaign, it plans to provide free oral health care tips to make people aware of the risks with oral problems.
Clove Dental has a long history of running initiatives and programs to benefit the society and spread the goodness of oral care. The company understands the value of quality oral care and also believes in taking the power of technology to more places and people to add value to lives. Its clinics are a new dimension to dental treatment with hygiene and care of the highest standards.
As the largest dental network in India, Clove Dental also understands it commitment to the society and this noble initiate is one of many attempts it runs through the year to help people stay on top of their oral health. Recently, it has introduced a dental health plan at Rs 499 per year which is inspired by hon'ble PM Shri Narendra Modi's vision of 'Ayushmaan Bharat'.
This one-time plan is launched for people across all age groups and gender with the focus on delivering them world-class dental care at affordable prices. The terms of the plan carry dental treatment worth of INR 1500 in one-third of payment and include free consultation, scaling, polishing and x-rays valid across 300 dental clinics of the company. It promises benefits like never before to people looking for quality dental care.
Anyone can avail the plan before 31st March 2019 and stand eligible to for a single treatment anytime during the years at the choice of Clove Clinic. This unique dental plan also has provisions of offering dental tips to members via SMS. The response to this plan has been amazing which is testimony to the value of quality dental care.
With a strong link between dental health and overall physical wellness, it's more important for people to take care of their teeth and gums in the same was as they do other body parts. It's also important to maintain regular oral care and visit the dentist at least twice a year. They should also benefit from initiatives like the one Clove Dental has started.