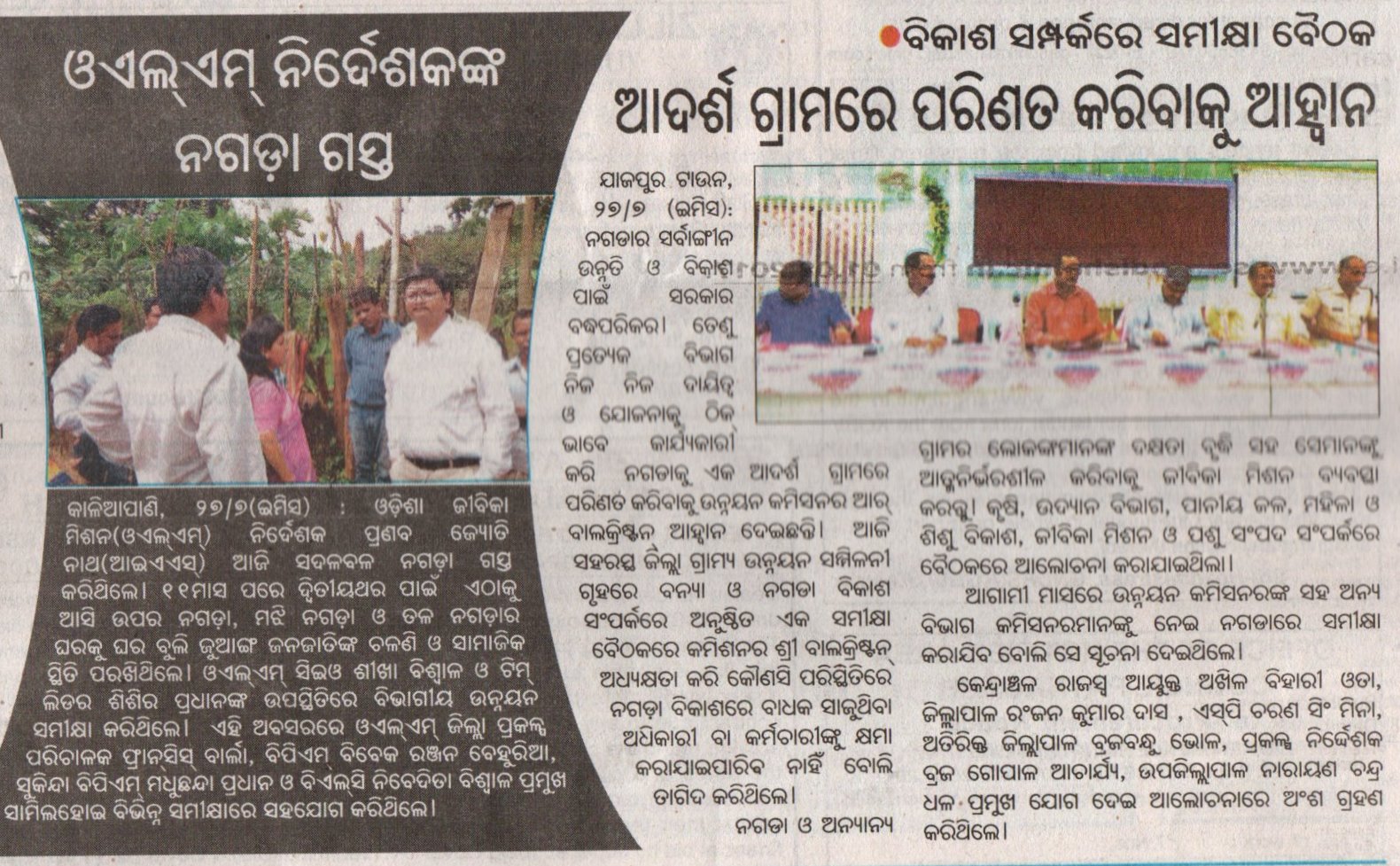 The Team of Senior officials including the State Mission Director, Sh. Parabjyoti Nath, IAS of Odisha Livelihoods Mission (OLM) under the Panchayati Raj and Drinking Water Department, Govt. of Odisha has visited all the hamlets of Nagada village on July 27th 2017. The OLM team has spent more than 6 hours in the perimeter of the village and visited almost all the households while discussing with the local people along with the district officials. The team of an International NGO Trickleup India has also accompanied the OLM team.
Nagada, a remote village in the Sukhinda block of Jajpur district was in news for the death of some children due to mal-nutrition last year. Odisha Livelihoods Mission has charted an exhaustive plan for socio-economic development of the community with added thrust on the sustainable solutions to address persistent mal-nutrition in the village population.
Rewarded and recognized as best in the country for the efforts and innovative initiatives for the livelihoods of vulnerable populations in the state, Odisha Livelihoods Mission, has already received the award in June from the Government of India. In the same line, OLM has formalize a partnership with an international NGO Trickleup India July 26th. 2017 for carrying out community based livelihood programmes in Nagada village.
On this occasion, Sh. Pranabjyoti Nath, State Mission Director, OLM said that, "for carrying out development work, related to livelihoods in underdeveloped remote area is our prime responsibility. The prime thrust of this combined effort of OLM and Trickleup India is on opportunity creation, entitlement awareness and behavior change mobilization through identifying community resource persons". During the visit along with Sh. Nath, Ms. Jaya Sarkar, Vice President, Tricklup India, Add. CEO of OLM Ms. Shikha Biswal and Team Leader Programme Mr. Sisir Pradhan were present.