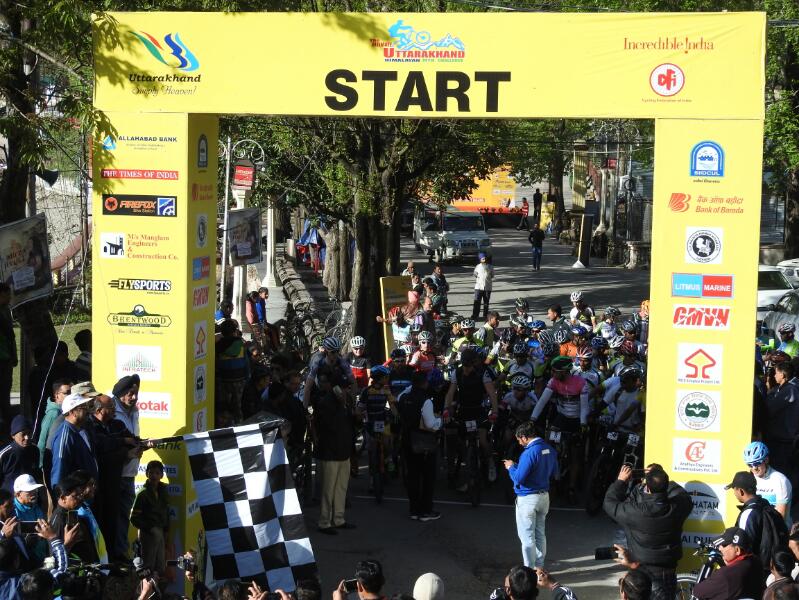 Uttrakhand Himalayan MTB third edition organized by Uttrakhand tourism development board to promote adventure tourism in Himalayan state in which 56 cyclists from 15 nations participated completed three days race setting the course of 400 kilometers started from Nainital to Pithoraghar , Bageshwar, and reached Karnprayag.
On the first day of the race, The 56 riders participating in the race include 6 women riders. Riders set a 164-km route from Nainital to Pithoragarh, in which Sweden's racer Stefan Arvidson completed the race in 6.22 hours and finished the race and placed on first position, Columbia's Oscars on second and USA Thomas placed third.
On the second day of the rally, Ryder completed a 120-km race from Pithoragarh to Bageshwar, where Oscar Marikko of Columbia was the first to finish the race. Riders were welcomed with a loud noise at the finishing point. Kiril Kanjatsov of Kazakistan got second place and Ramesh Aale of the Indian Army who participated in the race got third place.
On the third day of the race, the riders reached the city of Bageshwar along with all the zeal and glee, traveling 120 kilometers. While Columbia's Oscar Marikko retained his place in the race, he also secured first place in the race.
During the race, people from every village and town increased the enthusiasm of the riders with shout out and applause, while the riders also greeted people by shaking hands with moving bicycles. The 884 km cycle race that lasted for 9 days will end in Mussoorie, where final results will be conveyed by the chief minister.