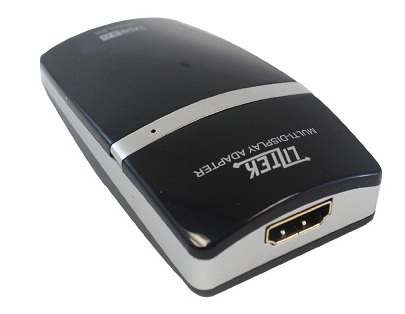 Liztek GA-2600V USB to VGA Video Graphics Adapter Card is a premium quality device which lets you expand or duplicate your display using inexpensive USB cable. The device supports Windows and Linux pretty well and the drivers are installed with Windows update. A driver CD is also included in the pack which adds to the comfort. This utility product can be ordered on Amazon.
Day by day laptops are growing thinner and thinner and they are losing on number of ports. One of those ports which are often found missing on ultrabooks these days is VGA port. VGA or Video Graphics Adapter/Array port helps connecting your laptop to another display including projectors. For the very reason, various companies are producing USB to VGA adapters to overcome this issue.
Liztek is a well established name in computer peripherals and has been manufacturing these VGA adapters as well. Liztek GA-2600V USB to VGA Video Graphics Adapter Card is one of its popular adapters. This adapter is of good built quality and enables you to mirror your display or expand it. The adapter also let is you set up as many as six displays requiring one adapter per display. These devices are widely compatible with Windows and Linux. However, support for ARM based Windows and Mac is not yet available. Fitted with Display Link DL-165 chip, they give up to 1920x1080 / 1600x1200 output on higher-resolution monitors.
The adapter comes with a USB cable, a driver installation CD and a user manual. The Graphics Adapter Card is readily available on Amazon and can be click ordered from the comfort of home. The Graphics Adapter Card is pretty reasonably priced as compared to the other devices in same category. The device is perfect for home, office and business uses. Be it for entertainment, blogging, news reading, power shopping or academics; the device is the right choice for all of them. So don't wait now, just logon and grab yours today!