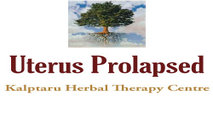 Kalptaru Herbal Therapy Centre starts its journey in 1978 and now it successfully complete 39 years in the same. Itís a time for a celebration for the centre because completion of 39 years is a great achievement. From origin to the outcome the company stands by their patients to serve the treatment of Prolapsed Uterus by Non Surgical method. Dr. H.B Shandilya, an Ayurvedacharya and respected owner of the centre have more than 40 years of experience in treating the situation.
The formula they use in the treatment originated naturally in the land of the Himalayas. He prescribes only Ayurvedic medicines and some natural exercises to their patients so they donít need to undergo any surgery or face adverse effects of conventional medicines. They prepare the medicines freshly as per the need, which dismisses the chances of its reoccurrence. Their method is safe and free from any side effects. Their treatment is time tested and based on the deep research and developed by the traditional family of Ayurveda.
He said their medicine is natural and work as a blessing for women suffering from the Prolapsed Uterus. Because of the presence of natural ingredients in the medicines, these may strengthen the ligaments or tissues of the pelvic floor, which help to cure the Prolapsed Uterus naturally. In the past 39 years, he successfully treats a number of women who are dealing with the same condition so long and want a natural way to get rid out of it. He put all his true efforts to break the ice, so the problem gets cured easily.
About Kalptaru Herbal Therapy Centre
Kalptaru Herbal Therapy Centre was endowed in Dehradun, 39 years ago. Since then, they have provided the herbal and non surgical treatment to the women who are suffering from the condition of Uterus Prolapsed.
Their treatment is safe because it is originated from the Ayurveda it yields outcomes that meet your expectations. The ball is in your court but take your decision before the time flies and you have nothing to regret.