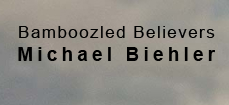 Michael Biehler, author of Bamboozled Believers, is pleased to announce his book unveils Christian truths that have been overlooked or altered over the years. It is his understanding many parts of the Bible were misinterpreted to cover the teachings of heretics, making much of what the Christian Church today believes a matter of heresy.
Throughout Christian history, heretics have been put to death for teaching information contradictory to the teachings of the Roman Catholic and Protestant churches. This caused many people to live in fear. Because there was no freedom of speech in regard to religious beliefs, it became impossible to discuss errors in theology. This means many of the beliefs that are taught in the Christian church today are based upon misinterpretations and incorrect beliefs.
The End Times is one of the issues addressed in Bamboozled Believers. According to Scriptures, Jesus did not predict the end of the world as many Christian churches teach. Instead, he promised his disciples he would return before their deaths. This would mean he has either already returned or the Bible is not the  truth. Bamboozled Believers strives to address these incorrect beliefs and uncover the truths so the Bible can produce the results it was intended for.
Anyone interested in learning about this book or the other work of Michael Biehler can find out more by visiting the
Bamboozled Believers
website.
About Bamboozled Believers
: Bamboozled Believers is a book written by Michael Biehler in an attempt to uncover the basic truths of the Bible and expose the incorrect beliefs held by the Christian church. His goal was to ignite a revival of Biblical Christianity and help lead more people to the real truth. Once the true power of the Bible is unlocked, the world can become a better place to live.