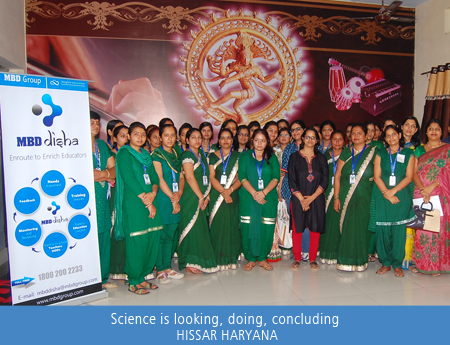 New Delhi January 03 A teacher training program does possess effectiveness and significance in elevating and improvising professional abilities of teacher in classrooms. MBD Disha has been functional, since its commencement, towards the betterment of knowledge giving processes in classroom. In conformity to the updated teaching practices, Teacher Training Workshop has been arranged from time to time.
Having number of schools and universities ainít a surety of superior education to the students. Increasing number of educational institutions is not sufficient rather the focus should be shifted to the quality of education rendered in our schools and universities. There has been noticeable and consistent change in education techniques with the introduction of technologies and these changes need to be adapted in teaching and learning process. Responsibility of plying education in better manner lies on the shoulders of teachers. This sense of responsibility urges need for development of professional ability in teachers through enhanced training programs. Teachers who can render modern or digital education in efficacious manner.
Skills Development Training is inseparable part of teacher training that hones skills of communication, management of educational tools, lesson management, assessments and others. This requires special skills of teacher to understand different needs of different students as no two students learn in the same way. Such skills ensures that varied options are give to students to acquire acquaintance.
With the help of team of prominent names of education domain, teaching training module is framed. It is their expertise of years in understanding student psychology for different age group that is constitutional force of the module. The workshop is the result of a complete analysis of needs required for teaching-learning procedures and classroom practices. The module of Teacher Training Program is equipped with broody ways that make different teaching aids both tradition and modern to make more effective teaching practices in classroom.
Contact Information:
MBDDISHA
Contact Number: +23317931, 23318301
Contact info@mbdalchemie.com
Website: https://goo.gl/nwqOg2