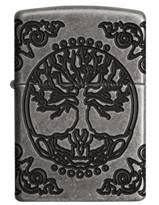 With a legacy of over 87 years, Zippo windproof lighters have become synonymous with exceptional quality and designs, etching millions of stories world over. Throughout its lifetime, it has remained a timeless collectible for enthusiasts across the globe.
Adding sheen to their collection, Zippo has recently launched a new range of windproof lighters to help bring a unique flair to your summer stories. The lighters in all metal construction, sport eclectic designs and intricate engravings, guaranteed to leave you in awe.
Available in antique silver, copper and gold finishes these lighters come with a lifetime guarantee and are can be purchased at https://www.williampenn.net/ or in the 28 William Penn stores and 3 shop-in-shop operations across 10 cities.
About Zippo:
Zippo markets in more than 180 countries and is one of the most recognized brands in the world. Based in Bradford, PA, Zippo has produced over 550 million windproof lighters since 1932, each backed by an unparalleled lifetime guarantee. Zippo's diverse product line includes lighter accessories; butane candle lighters, fragrance for men and women, and a robust line of heat and flame products for outdoor enthusiasts. Zippo also owns the Bradford, PA-based W.R. Case and Sons Cutlery Company, who marked its 125th year in business in 2014.