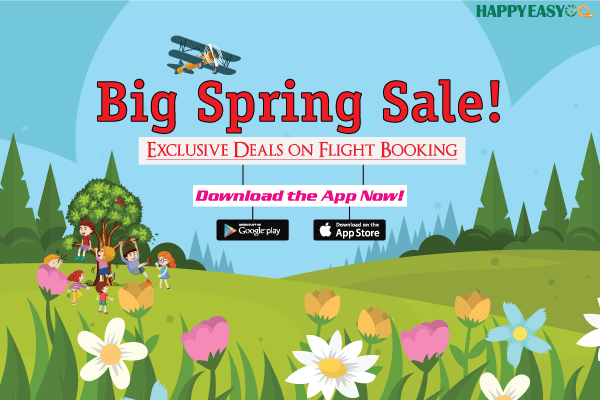 HappyEasyGo, India's most loved online travel agency for booking flights and hotels, has rolled out another sale to help business and leisure travellers save money. HappyEasyGo's Spring Sale brings you the biggest discounts on flight tickets you have ever seen. Save up to ₹1800 on your flight booking by using the coupon code: HEGFLY. The discount is available on all platforms, namely desktop site, mobile site and app. However, the offer is only applicable in case you have never made a booking with HappyEasyGo.
But do not fret if you are an existing user as your loyalty will not go unrewarded. You can grab up to ₹1650 off on your online flight booking with HappyEasyGo. You can use the coupon code: HEGPCM to avail this amazing offer. It is only applicable on the HappyEasyGo desktop site and mobile site.
You will not find a better time to plan a trip with your family and friends. With HappyEasyGo's offers on international and domestic flight booking, why wait? Escape the blistering summers in a serene hill station or explore a shimmering metropolis like New Delhi, Mumbai, Chennai, Bangalore or Kolkata. You can explore all the places you have been looking to explore.
But hold up, there is more that Spring Sale brings you. We did not forget about your accommodation needs. Enjoy savings of up to 40 per cent on your first hotel booking with HappyEasyGo. New users can enjoy this discount by using the coupon code: HEGSPBN on desktop site, mobile site or app. Existing users can also save up to ₹1700 on hotel booking by using the coupon code: HEGSPBR.
So, what are you waiting for? Book your flights and hotels before this incredible sale ends. Spring Sale is live from 1st April 2019 to 30th April 2019.