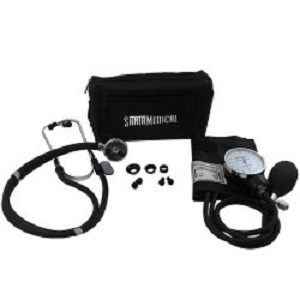 SantaMedical as one of the best brands in Medical Equipments and device manufacturing. The review published on its website by a biomedical tech expert states it as one of the best in the market. The product has been especially praised for its built and the quality for that matter.
The author has supplemented the fact that this device is a must have with some hard hitting facts. Stating how around 75 million Americans suffer from High Blood Pressure which then becomes the leading cause of Deaths in the US. He has stated how America spends $46 billion yearly on causes related to high BP. He also praises the competitive pricing which has seen marginal rise on Amazon since the review.
These facts are gut wrenching. For a developed nation like US it's imperative that it finds some solution. The author has stressed the importance of a personal device for use at home and has highlighted the features of the product. But the real catch is the segment where he explains the Unique Selling points of the SantaMedical Adult Aneroid Sphygmomanometer. Here he mentions how Latex free, FDA approved and other factors set it apart from the rest of the competitors in the market.
"Our products are known for their Quality and performance. It comes as no surprise that experts are happy with the performance." Says CEO SantaMedical. "Time and again we have proven ourselves"
You can read the review on Sanvada.com and also watch the video on the website. Sanvada.com is a leading Tech website publishing in a wide range of topics related to Technology.
About SantaMedical
SantaMedical is a company based in California, USA. They are devoted to designing, developing and manufacturing innovative Healthcare products that meet the needs of our customers through their GURIN and SANTAMEDICAL brands. For more info or for contact log in to the website:
SantaMedical.com