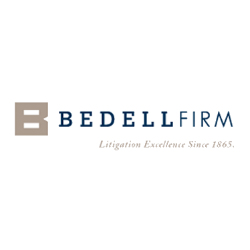 Bedell Law Firm is pleased to announce of their own, attorney Brian Coughlin, has been named to the Super Lawyers' list of Rising Stars for 2017. This prestigious list helps individuals who are seeking representation find the lawyers who are most likely to help them achieve their goals.
Each year, Thomson Reuters uses a comprehensive list of requirements to judge whether up and coming lawyers will be added to the list of Rising Stars. First and foremost, individuals must be nominated by their peer group or through one of the other approved methods. Thomson Reuters then conducts independent research on the nominees based on 12 factors relating to professional achievement and peer recognition. The selection process continue with a peer evaluation, followed by the final selection, which names just 2.5 percent of attorneys to the list.
This is not the first time Coughlin has been named to this prestigious list. He states, "It's an honor to be listed on Rising Stars again. Our team of attorneys and staff work very hard to provide a high quality of care for our clients, so awards like this reflect the hard work of the entire team here at Bedell Law Firm."
Anyone interested in learning about this recognition or viewing the list can find out more by visiting the
Bedell Law Firm
website or by calling 1-904-353-0211.
About Bedell Law Firm
:
Bedell Law Firm
is a full-service law firm that specializes in civil litigation, criminal defense, family  law, personal injury litigation, professional malpractice defense, real estate litigation and more. Their professional team takes great pride in helping their clients get the representation required to get the most successful outcome possible. This law firm has served Jacksonville residents and businesses for more than 150 years.