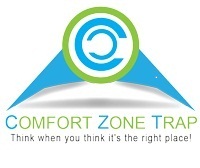 September 22, 2017 – Life in the modern era is fast paced, competitive, and filled with numerous worries and distractions. In such a chaotic environment, many people find themselves in need of expert assistance to keep their professional and personal lives on track. People looking for motivation to combat serious psychological issues like anxiety, stress, and depression often take the help of online resources to find ways to overcome their inner conflicts. Although there are numerous websites offering advice on how people can take control of their lives, Comfort Zone Trap has emerged as one of the most reliable source of quality advice for people seeking to better their lives and do away with their emotional and psychological shortcomings.
Comfort Zone Trap offers valuable tips and guidance to individuals facing debilitating psychological and emotional constraints. They have been successful in helping countless people in getting back on their feet and facing the challenges of everyday life with a positive frame of mind. The only way a person can make it to the next level is by venturing into the unknown and taking calculated risks.
A representative for the website had this to say about the dangers of falling into a comfort zone trap, "To achieve success in life, one has to have the strength to go beyond one's comfort zone and explore the true potential that lies within oneself. Safe routines that people go through in their daily lives could actually be holding them back from making progress in their careers. Our goal is to help people develop the confidence they need to tap into their hidden core strength and bring out what's best in them. The guidance and counseling our experts provide can help people change their lives for the better by giving them the inspiration needed to step out of their comfort zones and aim for greater things in life."
Comfort Zone Trap has succeeded in helping numerous people tackle their self-imposed constraints and overcoming their psychological weaknesses to improve their way of living. Stress and depression can negatively affect a person's ability to be productive. However, with the right guidance and encouragement, one can counter the effects of stress, anxiety, and depression and lead a life free from tension.