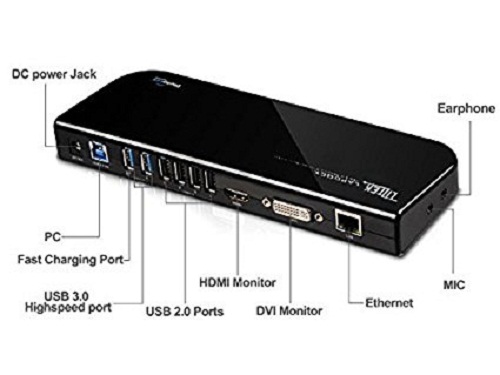 Liztek USB 3.0 Universal Docking Station, Dual Monitor, for Laptop, Ultra book and PCs is the perfect docking station for daily needs. Adding multiple USB 3.0 and USB 2.0 ports to your laptop, the device works like a charm. The device also supports multiple display function and USB fast charging port. Priced reasonably for the features, the device is readily available on Amazon.
With technological advancements our laptops are growing thinner and thinner day by day. To add to mobility and convenience, more and more people are depending on the laptop for their computing needs. With these thin laptops being in vogue, we feel short of ports every time we look forward for connectivity options. Universal docking stations come to our rescue in such situations. The docking stations add multiple ports to our system and make the connectivity a treat rather than a hassle.
Liztek has just introduced its new docking station that is Liztek USB 3.0 Universal Docking Station, Dual Monitor, for Laptop, Ultra book and PCs. As the name suggest it supports both your laptops and computers. It is widely compatible across the platforms. It's simple plug n play feature is icing to the cake. It uses one USB port and avails you 4 USB 2.0 and 2 USB 3.0 ports. It also supports a USB fast charging port which is very useful for charging your smart phone.
It allows you to connect up to 6 additional USB display units. HDMI, VGA and DVI monitor ports support display resolution up to 2048 x 1152/1920 x 1200. The Universal Docking Station also features extended desktop mode, mirrored desktop mode and primary mode. It also accepts headset and microphone input, 5.1 Channel surround sound through DMI interface. It's USB 3.0 Gigabit Ethernet network port can operate IEEE 802.3, 802.3ab & full duplex operation with IEEE 802.3x flow control.
The Universal Docking Station is ideal for small businesses where laptops are not just for laps and also find their place on desks. The pricing is very competitive. The Docking Station comes with 100 percent money back satisfaction guarantee. Readily available product on Amazon, it is a perfect docking station for daily needs.