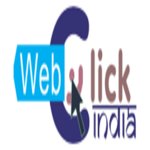 Web Click India is a growing Website Designing Company in Delhi that is pleased to declare its growth from 15 to 150+ clients in a very short span. Mr. Gunjan Singh the respective owner of Web Click India is happy to achieve such a great milestone in their journey to success. He believes that only who dare to fail greatly can ever achieve greatly. He said, their motive is to work well to satisfy each and every client at its best. Their hard work to meet challenges and commitments is the reason they successfully add new clients in their growing roasters.
Mr. Gunjan Singh said that they start their journey with Herambh Coolingz Pvt. Ltd and with each passing day they are adding new clients from all around the world to their clientele. Their secret sauce of success is their squad and their dedication to attain the goal. From the day of establishment, they render web designing, development, SEO and internet marketing services to their clients. They are fruitfully growing not only in India but overseas as well. In the past six years, with their hard work, they add so many foreign clients like Locksmith, Ink Tech Center, Abloom Global Talent, Far East Overseas Co., Ltd etc.
The company continually takes their steps toward growth and their happy and satisfied clientele are the proof of this. The company takes their initiatives to provide their customer the best value for money with their quality services and result for the same is in front of us.
About Web Click India
Web Click India is an exemplary Web Development Company in Delhi that successfully mounting the heights where the sky is the limit to achieve their business goals. From Web Designing to Development to SEO/SMO, they are serving everything that helps their clients to make their presence on the internet or intranet.
Being an ISO 9001:2008 Certified Company, we are dedicated to our customer success, so, they can attain what they want to. Their rendered service is economical that never cost you an arm and leg.