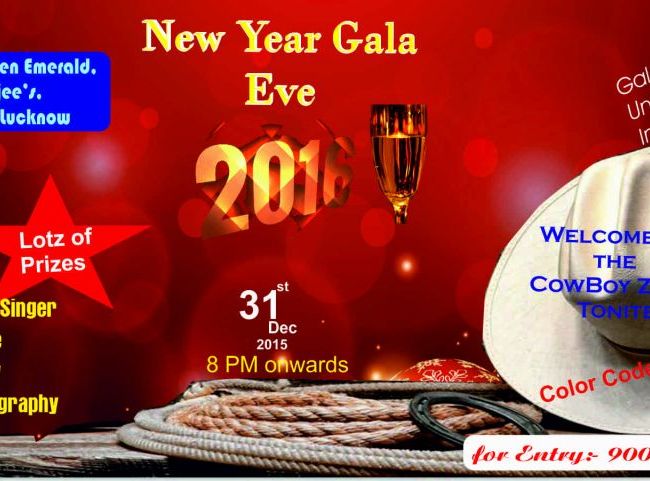 The
New Year Party in Lucknow
is expected to be a fun-fare for the audience with singers from the eminent realty shows performing live for the audience. So, just book your tickets now in just 5999/ and celebrate your new year in party style.
The
New Year Event in Lucknow
by the event rockers has a special cowboy theme and is especially a very viable option for the youngsters who want to discover wild side of themsellves. There are all sort of stuffs that youngster needs like the cocktail and music.
The show is a masterpiece in itself with renowned dance-troops showcasing their skills. The dinner is based on indo-continental theme with chineeses snack flavours that are highly popular especially amongst the youth brigade of Lucknow.
The venue for the event Rajnee's Hotel is an eminent one and easy to reach from anywhere in Lucknow easily. The event rockers have got prior experience and expertise of conducting these mega-event and they conducted a similar New Year party last year also. But this year, its goanna be bigger and better.
The experienced and elite event planners of the event rockers have also come-up with some surprise ideas to dazzle the audience during the event. They have made a hard and rigorous effort to make the New Year day beloved and special on for their audience. The experiment of Live DJ with Dhol is one such innovative concept that is being used by the event rockers to give new dimension to this party. For details about the part, booking your space or any other enquiry visit our website. You can also call us on the number given on the website.